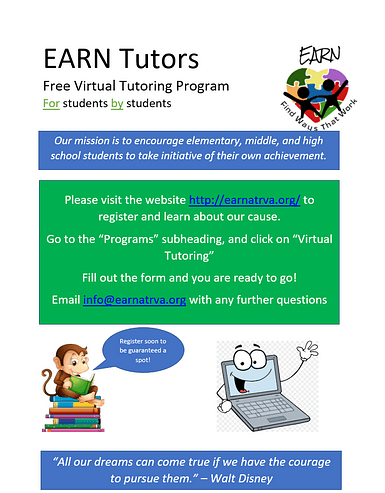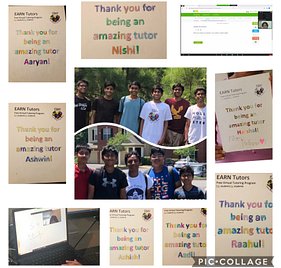 The Wrap Up of 2020!
Between April and October, we conducted over 200 hours of free, online tutoring, which adds up to almost $8000 worth of tutoring services. Our volunteers conducted weekly tutoring sessions through Zoom with students from kindergarten to 8th grade. We thank all of our volunteers for their effort and dedication to make all of this possible.
Copyright 2019 Website.com. All Rights Reserved.
At EARN we offer a free tutoring program for students in Elementary and Middle school.
P.S: This registration form is only for students who are interested in participating in our free tutoring program or homework help program. For any further questions contact us directly by sending an email to info@earnatrva.org
Virtual Tutoring
You will be connected with a tutor and will have weekly tutoring sessions at a time that is comfortable for you.
Homework Help
If you are stuck on your homework and don't know what to do, fill out this form and make sure to specify what homework assignment you are currently stuck on in the "Homework Description" section. We will connect you with a tutor in less than 24 hours
What is the focus of our work?
The main focus of our online tutoring program is to fill the achievement gap and help students efficiently continue their education through COVID-19 and social distancing. We strive to keep students thoroughly involved in academics in order to make the transition to online school easier.
What do we find most rewarding?
The most rewarding part about volunteering is understanding the power of positive contributions. We aim to spread our influence across the community in order to powerfully impact those in need, so hopefully, we can motivate others to give back to their communities as well.
What are some major challenges we faced and how we handled them?
Learning in an online format can be difficult at times, however we try to make our tutoring sessions the best that they can possibly be. Also, during COVID-19, it was challenging to develop and spread the word about our idea, and it wouldn't have been done without the wonderful contributions of many Henrico County Public Schools faculty members and Ms. Gail Crawford, founder of Making a Difference for You (MAD4YU), who guided us to achieve our goals.